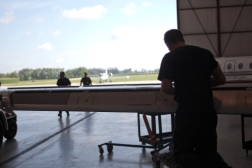 Conveniently located 4 miles south of Springfield, Airpark Ohio is an unparalleled blend of an airport, industrial park, and municipal airpark. Nestled between Dayton and Columbus, Airpark Ohio is a 20-minute drive from Wright Patterson Air Force Base, AFIT (Air Force Institute of Technology), and Air Force Research Lab (AFRL). I-70 and I-75 within minutes, coupled with level terrain, allow for versatile and efficient product and material transportation.

Airpark Ohio's industrial park, located off of U.S. 68, make development easy. 191 acres are zoned "light industrial", which includes light manufacturing, service, office and warehousing. Utilities and infrastructure in place include roads, sewer, gas, water and electricity, expediting the development process.

Springfield-Beckley Municipal Airport is one of Airpark Ohio's most valuable assets. Servicing corporate, military, and general aviation customers, Springfield-Beckley is also home to Army Guard, Army Reserve and Ohio Air National Guard Units, granting opportunities for joint training, testing and development.

Airpark Ohio is located in the middle of the United States' most prominent locations for UAS development. This region is focused on UAS development and collaborative partnerships with business and government entities. The presence of the Ohio Air National Guard supports an Intelligence, Surveillance and Reconnaissance Wing and part of an MQ-1 Predator Mission. Your business can grow and change readily with the UAS industry at Airpark Ohio.
We invite you to explore the ways Airpark Ohio can help your company DEVELOP your business, ACHIEVE innovation and CONNECT to your market!